Recommended Posts For Your Daily Read
It is good to stay informed and connected. The Bible speaks of those "who had understanding of the times, to know what Israel ought to do" (1 Chronicles 13:32 ESV). Are you looking for some online magazines, blogs, or news sources that can help aid you in godly discernment, encourage you in your walk with the Lord, and also keep you up to date with current trends in life, culture, and theology? Below are some of the sites I frequently visit, and hope some of them prove to bless your daily devotional life.
Prayers To Begin Your Day
Thomas Aquinas: A Prayer Before Study.
The Divine Hours. Prayers and meditations from the Church's liturgical calendar.
Prayer Haven. Pray the office from the Book of Common Prayer.
Gregorian Chants: In Pragensi Ecclesia, Dominican Liturgy, and CDs from Paraclete Press
Libera albums: favorite song "Be Still My Soul"
Christian Web Journals and Magazines
ABC Religion & Ethics. The religious op-ed section of the Australian Broadcast Corporation.
The Badlands. A collection of discerning web articles, including some by J. P. Baker.
Breakpoint. Blog, articles, and podcasts from the Colson Center.
Christian Century. An online newspaper dedicated to thinking critically and living faithfully.
Christian Chronicle. A christian news source primarily focused on Churches of Christ.
Christianity Today. A premiere evangelical magazine.
Church Leaders. A web magazine for church leaders.
Crosswalk. Evangelical devotionals.
First Things. A Catholic journal on religion and public life.
Gospel Coalition. website ministry for a Reformed network of churches.
Huffington Post-Religion. Religious posts from a variety of sources.
Human Exceptionalism blog. National Review section from the Center on Human Exceptionalism.
Marginalia. Los Angeles Review of Books page with scholarly Christian reflections.
Moral Apologetics. Articles dealing with moral issues and arguments relating to God.
On Faith. An assortment of articles connecting Christians with relevant, deeper Bible study.
Rabbit Room. A web journal connecting theology, literature, and creativity.
Relevant Magazine. Targeting 20- & 30-somethings.
St. John's Timeline. Richly illustrated videos by specialists on theology and philosophy.
Start2Finish. A web journal from within Churches of Christ.
Syndicate Theology. Symposium-style reflections on theological and philosophical topics.
Unbelievable / Premier Christian Radio. A Radio debate format on Christian philosophy.
Thinkfaith. Posts, events, and seminars with leading theologians and ministers.
Touchstone Magazine: Celebrating the 'Great Tradition' of historic Christian faith.
Wineskins. An online magazine primarily rooted in the American restoration movement.
Wondering Fair. An online corner to take a break and wonder about life.
World. An online news magazine aligning headlines with Christian articles.
Ministries and Personal Blogs
A Pilgrim in Narnia. Reading all things C. S. Lewis by Brent Dickieson.
Ben Witherington. A blog on the Bible and culture.
BioLogos. Seeking harmony between science and faith.
Carey Nieuwhof. Resources from a Canadian minister and leadership expert.
Christian Studies. The online blog for Austin Graduate School of Theology (Austin, TX).
Craig Keener. Bible background research and commentary.
Dallas Willard Center for Spiritual Transformation. Resources/teaching videos.
Dei-Liberations. A leadership blog by Mark Love.
Desiring God. The online ministry of John Piper.
Experimental Theology. Reflections by Richard Beck.
Faith and Theology. The online blog of Ben Meyer.
Faraday Institute for Science and Religion. Housed at my Alma Mater.
Fortners Think Shop. The online blog for John and Janet Fortner.
God Hungry. Ministry and leadership reflections by Jim Martin.
God Scout. A ministry of Jennifer L. Gerhardt.
Ifaq theology. Ron Highfield's theology blog.
Jesus Creed. The online blog of Scot McKnight and guest authors.
Jim McGuiggan. Reflections from the Irish prince of preachers.
John Mark Hicks. Online ministry of a theologian within the Churches of Christ.
Jonathan Storment. A blog from the preaching minister at the Highland Church in Abilene, TX.
Many Horizons. A collaborate theological blog with my former classmate Barnabas Aspray.
Max Lucado. Enjoy Max's daily one-minute audio devotionals or his blog.
Mere Orthodoxy. Resource page for blogposts concerning Christian faith in the public square.
Morning Rush. A blog by Terry Rush.
N. T. Wright Page. Collected articles and speeches by N. T. (Tom) Wright.
Preacher Mike. A blog by Mike Cope.
Radically Christian. A blog by Wes McAdams.
Reasonable Faith. The online ministry of William Lane Craig.
Red Letter Christians. Emphasizing Jesus & Justice, by Tony Campolo & Shane Claiborne.
ReKnew. The online ministry of Greg Boyd.
Renovare. Resources by an international ecumenical group emphasizing becoming like Jesus.
Scripture and Mission. A blog by Greg McKinzie.
Shame Revolt. The ministry of Rusty Woods.
[Un]Ordinary Theology. The personal blog of Kyle Williams (a former student).
Works of McDonald. Devotional blog based on the writings of George McDonald.
Discussion of Philosophy, Politics, Literature and Contemporary Culture
Daily Nous. News for and about the philosophy profession.
David Brooks. Conservative Op-Ed columnist for the New York Times. Read a fascinating article about him here.
Elizabeth Stoker Bruenig. Staff writer for New Republic, liberal Christian, and former classmate.
George Will. Conservative columnist for the Washington Post.
Great Lecture Library. Browse lectures by David Brooks, Michael Sandel, and many others.
LSE Public Lectures. Thousands of amazing lectures at the LSE.
Malcolm Gladwell. Columnist for the New Yorker. For past material, see his personal website.
On Being. A prize-winning radio podcast dealing with animating questions at the center of human life.
Philosophical Percolations. All the philosophy that's not fit to print. 
Philosopher's Pipe. Philosophy podcasts piped into one place.
Philosophy of Religion.Org. News, events, and articles.
Russ Douthat. Conservative Sunday Op-Ed columnist for the New York Times. Read his blog here.
The Stone. A New York Times opinion page featuring philosophers discussing contemporary themes.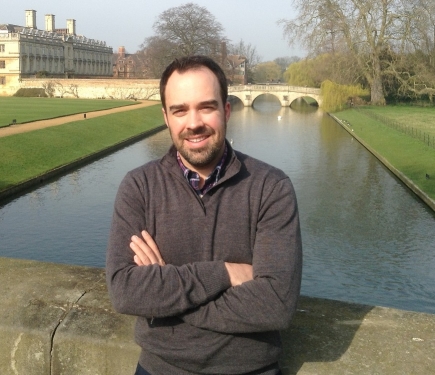 Nathan Guy believes the passionate pursuit of truth, goodness, and beauty culminates in Jesus Christ. He received formal training in philosophy, theology, biblical studies, and cultural & political ethics from Oxford, Cambridge, and the LSE. Nathan lives in Florence, Alabama, where he serves as President of Mars Hill Bible School.