Healthy Theology 8: Living Well
"His divine power has granted to us all things that pertain to life and godliness, through the knowledge of him who called us to his own glory and excellence by which he has granted to us his precious and very great promises, so that through them you may become partakers of the divine nature, having escaped from the corruption that is in the world because of sinful desire." (2 Peter 1:4 ESV)
People want to know how to get into heaven; but–to quote a line from a forgotten source–God's first desire is to get more of heaven into us. For Christians, "eternal life" is not just about how long we live after we die; it's also about the kind of life God offers us—not just in eternity, but even today. According to the Gospel of John, "to know the only true God and Jesus Christ" summarizes what it means to experience the life of eternity. Knowing God involves the intimacy of walking in step with God's Spirit, putting on the mind of Christ, and trusting in the promises of God. We live in the confidence that we do not walk alone, and we are not left to our own resources. The Spirit of God is with us on our journey toward a better life. Our Savior promises to be with us on the road to recovery. Our God will forever be with us as we accept the invitation to "participate in the life of God" (2 Peter 1:4 MSG). Healthy theology goes beyond asking what you believe or how you read; it involves practicing a vibrant life of faith that flows out of a spiritually nutritious life.  A healthy pursuit of God involves relying on God's Spirit which enables us to experience a new kind of life: one that causes us to look more and more like Jesus—and, in so doing, become more and more like God.
TRANSFORMATION
Participation in the life of God begins with a transforming experience. In a conversation with a man named Nicodemus, Jesus named this experience as being "born again" (John 3:3). This birth is not from a second womb, but from a higher source (John 1:13; 3:4, 6). We long to know how we can get to God; the surprising reply is to allow God to get into you! To be born of the Spirit (John 3:8) is to allow God's Holy Spirit to take up residence in your heart and life—cleansing your heart, mind, and soul, preparing and enabling them for active service in the ways of God (Romans 6 & 8).
God's transforming grace begins to work, even when we do not yet see all the effects. The new Christian may look in the mirror and say "I don't see or feel any different." But God is at work in you (Phil 1:6), and He is not finished yet. Progress takes time.
Christians are not only "saved" in some initial moment of giving our hearts to Jesus; we are "sanctified" (that is "made holy") by the inward work of the Spirit upon every aspect of our lives. In one sense, we are "declared holy" because we are children of God, and have his Holy Spirit living inside us. But in another sense, we are "being made holy" through the difficult process of changing our attitudes, habits, thought patterns, lifestyle, vision, and relationships. As the Living Bible beautifully translates 2 Peter 1:4, God has promised to "save us from the lust and rottenness all around us, and to give us His own character."
What a powerful thought! If the process of sanctification is to empower us to become more like Christ, what is the end goal of this transformation process? It is for us to take upon ourselves the very character of God.
We become someone new: growing in the Spirit, becoming like Christ, so as to embody the very character of God. This what the life of eternity looks like.
HOW DO WE LEARN TO BE DIFFERENT?
Christ, our model, "learned obedience by the things He suffered" and was "made perfect" by them (Heb 5:8-9). When the Apostle Paul discovered Christians acting in sinful ways that once characterized their past, he reminded them "that is not the way you learned Christ!" (Eph 4:20). This emphasis on "learning" proper behavior is part of what it means to be a disciple. After all, the word "disciple" means "learner."
As disciples we want to know what is right and wrong, good and bad, and how we ought to choose the good and avoid the bad. We call this the study of ethics. But ethics involves at least three sorts of approaches. Most everyone combines these in one way or another. At the same time, however, most everyone has a "way" of thinking about ethics that centers on one of these three approaches.
1.Achieving Goals. Perhaps you sense that what God wants most from us is to do whatever is best for others—regardless of self or any other consideration. If so, you may be operating out of a "goals"-oriented approach to ethics.
2.Obeying Rules. Perhaps your approach to ethics begins with this important thought: God's highest desire is for us to obey his commandments. If you assume that—more often than not—God gives us a list of things to do or not do, and we ought to find the right answer and simply apply it to our situation, then you may be operating out of a "rules"-oriented approach to ethics.
3.Acquiring Habits and Becoming Virtuous People. Perhaps you think that God's chief desire is to form us into the kind of people who can discern (for ourselves) which goal to seek and how to behave in situations beyond rules. If so, then you may be adopting a "virtue"-based approach to ethics.
I think we can all agree on the merits of these approaches. There clearly are Christian goals and there are, no doubt, Christian rules. For the moment, I would like you to consider the merits of a virtue-based approach. In Christian history, a virtue-based approach to ethics does not neglect goals and rules. In fact, virtue ethicists seek certain goals and follow certain rules in pursuit of becoming a certain kind of person. The key difference is this: when we become the kind of person who can discern wisdom that comes from obedience and seeking God, the goals and rules no longer become the central concern.
"In short, we can engage in the process of taking on the very character of God."
Here is an example: we teach our children to make their beds every morning. We want them to become the sort of people who can maintain a healthy life, avoid sloth, keep to a schedule, and live an ordered life. We would be proud of them if, when they are 30, they maintain such a life, and live with industry and integrity, whether or not on any particular day we were to find their bed unmade. The rule serves a larger purpose rather than simply serving itself. To disregard the rules, or to set aside the goal, is to fail to live out the purpose of either. But to be so constrained by them that you miss out on the larger purpose is to fail to capture the virtuous life to which they point.
In a chapter on "the Cardinal virtues," C. S. Lewis speaks to this understanding very well. "We might think that God wanted simply obedience to a simple set of rules," writes Lewis, "whereas He really wants people of a particular sort." It's a certain "quality of character" that God wishes to develop within us. For this reason, something more than 'keeping the rules' ought to drive us; our attitude, our intentions, and the larger trajectory of our lives come into play. "[R]ight actions done for the wrong reason do not help to build the internal quality or character called a 'virtue', and it is this quality or character that really matters."
The more I study difficult issues in Christian living, the more I see great value in adopting a virtue-oriented approach–as the rich tradition of Christian thought advises. We may not find the rule that gives an easy cut-and-dry answer to any particular situation. We might find Christian goals that lead in more than one direction. But that should not worry us nearly as much as it might seem; with prayer and confidence, we can acquire spiritual habits which essentially change our instincts, form our judgments, and align our hearts with the will and heart of God. In short, we can engage in the process of taking on the very character of God.
 "…[W]hen one turns to the Lord, the veil is removed. Now the Lord is the Spirit, and where the Spirit of the Lord is, there is freedom. And we all, with unveiled face, beholding the glory of the Lord, are being transformed into the same image from one degree of glory to another. For this comes from the Lord, who is the Spirit" (2 Cor 3:16-18).

Book: Robin Lovin, Christian Ethics: An Essential Guide. An excellent introduction goals, rules, and virtues.
Article: Dallas Willard, "Spiritual Disciplines, Spiritual Formation, and the Restoration of the Soul"
Sermon: Billy Wilson, "God Will Finish It" (Philippians 1:6) 
(photo credit: Pixabay)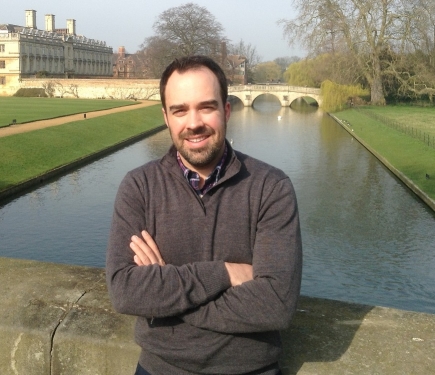 Nathan Guy believes the passionate pursuit of truth, goodness, and beauty culminates in Jesus Christ. He received formal training in philosophy, theology, biblical studies, and cultural & political ethics from Oxford, Cambridge, and the LSE. He lives in Florence, Alabama, where he serves as President of Mars Hill Bible School.