Healthy Theology 10: Loving Well

"Let me give you a new command: Love one another. In the same way I loved you, you love one another. This is how everyone will recognize that you are my disciples—when they see the love you have for each other" (John 13:35 MSG).
In 1968, Peter Scholtes was serving as a priest for St. Brendan's, on the southside of Chicago. Inspired by this passage from John, Scholtes wrote a hymn for the youth choir of his parish which has been echoed in church buildings all over the globe:
We will walk with each other, We will walk hand in hand.
We will walk with each other, We will walk hand in hand.
Together we'll spread the news that God is in the land.
And they'll know we are Christians
by our love, by our love,
Yes they'll know we are Christians by our love.

We will work with each other, We will work side by side.
We will work with each other, We will work side by side.
And we'll guard each man's dignity, and save each man's pride.
And they'll know we are Christians
by our love, by our love,
Yes they'll know we are Christians by our love.

All praise to the Father, from whom all things come.
And all praise to Christ Jesus, His only Son.
And all praise to the Spirit, who makes us one.
And they'll know we are Christians
by our love, by our love,
Yes they'll know we are Christians by our love.
Practicing good theology is, simply put, the art of loving well. Good theology begins from and points toward loving God with all your heart, mind, soul, and strength and loving your neighbor as yourself. God is described, by analogy, in all sorts of ways. But one definition which fits him well is this: God is love. Since theology is learning to speak well of God so as to embody the character of God, it goes without saying that "anyone who does not love, does not know God" (1 John 4:8).
Practicing good theology is, simply put, the art of loving well. tell the world
Love is the first fruit of the Spirit (1 Corinthians 13:13), and the chief lasting characteristic of the church (Galatians 5:22), precisely because love is the very definition of God (1 John 4:8). Here at the end of our series introducing the idea of "healthy theology," its imperative that we emphasize the importance of love.
Knowledge is a wonderful thing. God expresses deep concern that "my people are destroyed for lack of knowledge" (Hosea 4:6). We are called to "know God" (John 17:3) and Jesus points out a serious flaw among those who "know neither the Scriptures nor the power of God" (Matthew 22:29).
"If a church is not known for its love–for God and others–it cannot claim to be a church that is born of God."
But when Paul decides to list the characteristics that describe God's people–the virtues that identify us as "one of His"–knowledge doesn't even make the list! I suspect I know why. Because knowledge has a tendency to "puff" up while love "builds" up (1 Corinthians 8:1). Knowledge is a tool that can be used for good or evil–toward exalting Christ or exalting ourselves. It is a tool that even Satan can employ at times. Love, on the other hand, is nothing but good; it is pure, of God, and Holy. Besides–loving God is actually the Christian form of "knowing" God! Just listen to 1 John 4:7: "Beloved, let us love one another, for love is from God, and whoever loves has been born of God and knows God."
There are many possible motivations for doing good; but the text tells us God sent His Son to redeem a lost humanity for this reason: He so loved the world (John 3:16). Paul can barely contain his enthusiasm when he describes the situation to the Ephesians and to Titus. We were dead in our trespasses and sins, hating God and hating one another. "But God" –writes Paul–"because of the great love with which he loved us" (Ephesians 2:4) reached down to claim us as His very own; this happened "when the loving kindness of God our Savior appeared" (Titus 3:4).
Love, then, must be our motivation, our incentive, and the very center of our identity. The early church father Tertullian imagined pagans would get together and speak of Christians this way: "Look how they love one another…and how they are ready to die for each other!" A church may be known for its dynamic preacher, strong youth program, and extravagant building. A church may make sure it is known far and wide for all the things it is against, and all the people it does not accept. But if a church is not known for its love–for God, for the church, and for hurting people outside the church–it cannot claim to be a church that is born of God (John 3:16-17; 1 John 4:7-8; John 13:35).
Trevin Wax relates this truth in a bold and powerful way:
The church that affirms the right doctrine but does not embody or enact the spirit of Jesus's love is heretical. Jesus gave the world the right to judge Christians by how they love one another.
Good theology causes us to love better. Jesus was criticized most often for welcoming sinners and eating with them. He attracted tax-collectors, prostitutes, Samaritans, and Gentiles. There was no doubt where He stood: with God and with hurting people. The genuineness of his love could melt the heart of the deepest cynic, and open the eyes of the those blinded by selfish ambition. His love created responses of total transformation, self-denial, and over-the-top charitable giving.  The same can be true today. In the words of Cyrus Neusbaum:
His pow'r can make you what you ought to be;
His blood can cleanse your heart and make you free;
His love can fill your soul, and you will see
'Twas best for Him to have His way with thee.
Let the church be a place where we meet the love of Jesus in the eyes and hearts of one another. Let the people of God be known as purveyors of peace, interested in reconciliation. Let the world stand in awe of the power of God's Holy Spirit to bring about the kind of future that only forgiveness, healing, and genuine love can produce. Let the church major in love.
May we echo the words of the Peace Prayer of Saint Francis, written most likely shortly before the first world war:
Lord, make me an instrument of your peace: where there is hatred, let me sow love; where there is injury, pardon; where there is doubt, faith; where there is despair, hope; where there is darkness, light; where there is sadness, joy.

O divine Master, grant that I may not so much seek to be consoled as to console, to be understood as to understand, to be loved as to love. For it is in giving that we receive, it is in pardoning that we are pardoned, and it is in dying that we are born to eternal life.
Concluding Our Series
With this post, we conclude our series introducing "healthy theology." Allow me to offer a summation.
As a believer, I want to "know" Christ, and be "found in Him" (Philippians 3:8,10). I believe that the hope of eternal life is simply what Christ declared it to be: "that they know you, the only true God, and Jesus Christ whom you have sent" (John 17:3). God has revealed himself in a variety of ways—through his created world, through the words of Scripture, through the life and actions of the believing community, and ultimately in the person of Jesus Christ. Since we are imperfect in our reasoning powers or in discerning our experiences, Scripture takes pride of place in providing specific teaching for the people of God–pointing to Jesus Christ.
Yet the Bible is meant to be read and discussed in community, through the power of the Holy Spirit. The great value of reading scripture through the rule of faith and considering traditional beliefs about what Scripture means is that it widens the circle of our "believing community." In the community of believers, surrounded by a great cloud of witnesses, we find ample resources for discerning the will of God and understanding him better. This is the practice and goal of theology: the search for sound doctrine (or 'true teaching') in the hope of being directed toward a personal relationship with and experience of God himself.
And this is why theology is important. We are interested not only in what the Bible says about God; we also want to know what it means. My own individual interpretation of Scripture only gets me so far. My reason is often clouded; my experience is not universal. There is no guarantee that any one person's viewpoint is correct or comprehensive. And yet, we want to plumb the depths of the riches of the wisdom and knowledge of God. We want to know the best reflections on the weightiest matters, run through the sieve of centuries of reflection and deliberation. With constant attention to the words of Scripture, and always evaluating theological reflection in the light of Scripture, we learn from our brothers and sisters to think not only noble thoughts about God, but true ones.
And in all of our getting, may we get understanding. True understanding. To truly know God–through the practice of self-giving, self-denying, Holy-Spirit-producing love. May this be our never-ending quest.
(photo credit: poky)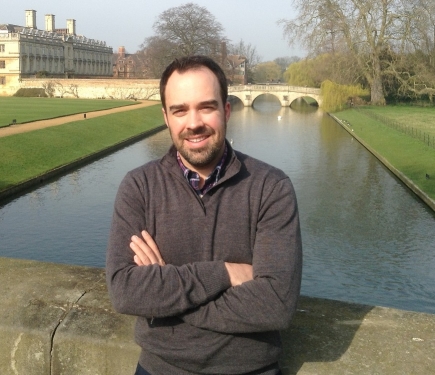 Nathan Guy believes the passionate pursuit of truth, goodness, and beauty culminates in Jesus Christ. He received formal training in philosophy, theology, biblical studies, and cultural & political ethics from Oxford, Cambridge, and the LSE. Nathan lives in Florence, Alabama, where he serves as President of Mars Hill Bible School.