But…God!
When stories (in Scripture and in life) begin with me, they are full of toil and trouble. "As for you, you were dead in your transgressions and sins" (Eph 2:1 NIV). "At one time we too were foolish, disobedient, deceived and enslaved by all kinds of passions and pleasures…being hated and hating one another" (Titus 3:3 NIV). But God enters into the story, and…well…everything changes.
That little phrase–"but God"–appears 43 times in Scripture. It's a phrase the Bible writers like to introduce at the crucial transition point of the stories they tell.
We see it in Genesis: The waters of the flood fell upon the earth, blotting out every living thing that was on the face of the ground… "BUT GOD remembered Noah and all the…animals…with him in the ark. And God made a wind to blow over the earth, and the waters subsided" (Gen 8:1 NRSV). Joseph must have felt so alone, there in the pit. When Steven retells this story, he says his brothers, "jealous of Joseph, sold him into Egypt; BUT GOD was with him, and rescued him from all his afflictions, and enabled him to win favor and to show wisdom…[to] Pharaoh…who appointed him ruler over Egypt and over all his household" (Acts 7:9-10 NRSV). Stephen may have been echoing Josephs' own words of redemptive healing: you meant it for evil, says Joseph, "BUT GOD meant it for good" (Gen 50:20 ESV).
We see it in the Psalms: My flesh and heart may fail, says the Psalmist, "BUT GOD is the strength of my heart and my portion forever" (Ps 73:26 ESV).
We see it in Acts: "This man, Jesus, you with wicked hands have crucified and slain—said Peter on Pentecost; "BUT GOD raised him up, having freed him from death" (Acts 2:24 NRSV). Peter, shaken by his dream, said to Cornelius, "you…know that it is unlawful for a Jew to associate with or to visit a Gentile; BUT GOD has shown me that I should not call anyone profane or unclean" (Acts 10:28 NRSV).
The Apostle Paul continues the tradition: "You were dead [in] trespasses and sins," Paul says to the Ephesians. "All of us once lived among them in the passions of our flesh, and…were by nature children of wrath, like everyone else. BUT GOD, who is rich in mercy, out of the great love with which he loved us, even when we were dead through our trespasses, made us alive together with Christ…and raised us up…and seated us with him in the heavenly places in Christ Jesus" (Eph 2:1-6 NRSV). "Rarely will anyone die for a righteous person—though perhaps for a good person someone might actually dare to die. BUT GOD proves his love for us in that while we were still sinners Christ died for us" (Rom 5:7-8 NRSV). "I planted; Apollos watered; BUT GOD made it grow…Neither the one who plants nor the one who waters is anything, but the only one who is anything is God who makes it grow" (1 Cor 3:6-7 CEB).
In the words of Lacy Scott, 
'But, God' stands totally opposed to the negative roar of the world. The world says no – 'But, God' says yes! The world says can't—'But, God' says can! The world says won't: 'But, God' says will! The world says stop—'But, God' says go! The world says don't—'But, God' says do! The world says defeat—'But, God' says victory! 'But, God' climbs the highest mountain, crosses the darkest valley; and sings songs of victory in the midnight hour!
Annie Johnson Flint was a sickly child when she was born in 1866. This poor girl lost her parents at a very young age, went to a sanatorium, and was diagnosed with excruciatingly severe and crippling arthritis. What could she do with her life, confined to bed? She asked someone to push a pen between her crooked fingers, and she etched out powerful and moving poetry like this one:
I know not…but God knows. Oh, blessed rest from fear! All my unfolding days to Him are plain and clear. Each anxious, puzzled 'Why?' From doubt or dread that grows, Finds answer in this thought: I know not, but He knows.

I cannot…but God can. Oh, balm for all my care! The burden that I drop—His hand will lift and bear. Though eagle pinions tire, I walk where once I ran, This is my strength to know; I cannot, but He can.

I see not…but God sees. Oh, all sufficient light! My dark and hidden way—to Him is always bright. My strained and peering eyes may close in restful ease, And I in peace may sleep; I see not, but He sees.
God is up to something. He's at work in you. May he give you eyes to see it.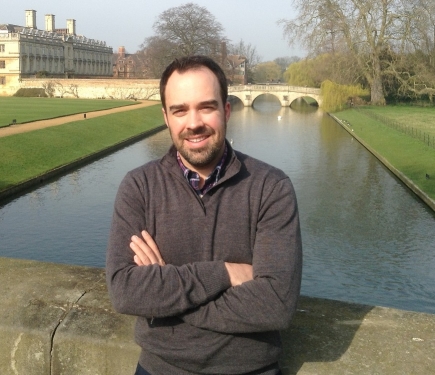 Nathan Guy believes the passionate pursuit of truth, goodness, and beauty culminates in Jesus Christ. He received formal training in philosophy, theology, biblical studies, and cultural & political ethics from Oxford, Cambridge, and the LSE. He lives in Florence, Alabama, where he serves as President of Mars Hill Bible School.