What Books I Am Reading In 2018

Nick Roark (over at Tolle Lege) will inspire just about anyone to keep a book log. And so I shall. Some books will involve current issues in my field of study, or important works that inspire current conversation. But my heart lies with Lewis, who made an impassioned plea to recover a love for old books, and the wisdom that has stood through the ages:
"It is a good rule, after reading a new book, never to allow yourself another new one till you have read an old one in between. If that is too much for you, you should at least read one old one to every three new ones. Every age has its own outlook. It is specially good at seeing certain truths and specially liable to make certain mistakes. We all, therefore, need the books that will correct the characteristic mistakes of our own period. And that means the old books." –C.S. Lewis, "Introduction" in St. Athanasius, De Incarnatione Verbi Dei (Crestwood, NY: St. Vladimir's Seminary Press, 1944, rep. 1993), pp. 4-5.
Currently On My Reading Shelf 
Camp, Phillip G. Finding Your Way: A Guide To Seminary Life and Beyond (Wipf & Stock, 2009).
Cox, Monte. Significant Others (Leafwood, 2017).
Hadot, Pierre. Philosophy as a Way of Life. Ed Arnold I. Davidson. Tr. Michael Chase (Blackwell, 1995).
Haidt, Jonathan. The Righteous Mind (Vintage, 2013).
Lewis, C. S. Mere Christianity.
McCullough, David. 1776 (Simon & Schuster, 2005).
Moreland, J. P. (ed). Theistic Evolution (Crossway, 2017).
Peterson, Jordan. 12 Rules For Life (Random House Canada, 2018).
Rubin, Gretchen. The Happiness Project (Harper, 2015).
Roberts, Russ. How Adam Smith Can Change Your Life (Portfolio, 2015).
Scruton, Roger. Fools, Frauds, and Firebrands (Bloomsbury Continuum, 2017).
Sinnott-Armstrong, Walter. Think Again: How to Reason and Argue (Oxford, 2018)
Smith, David I. On Christian Teaching: Practicing Faith in the Classroom (Eerdmans, 2018).
Smith, David I. & James K. A. Smith (eds). Teaching and Christian Practices: Reshaping Faith and Learning (Eerdmans, 2011).
Smith, F. LaGard. Darwin's Secret Sex Problem (WestBow, 2018).
Smith, James Bryan. The Good and Beautiful Life (IVP, 2010).
Stanglin, Keith D. The Letter and Spirit of Biblical Interpretation: From the Early Church to Modern Practice (Baker Academic, 2018).
Sun Tzu. The Art of War (Basic Books, 1994).
Taylor, Charles. A Secular Age (Belknap/Harvard, 2007).
Welch, Edward T. A Small Book About A Big Problem: Meditations on Anger, Patience, and Peace (New Growth Press, 2017).
Wilken, Robert Louis. The Spirit of Early Christian Thought (Yale, 2005).
Willard, Dallas. The Divine Conspiracy (Harper, 1998).
Specialty Studies For Research Project: The Sermon on the Mount
Allison, Dale C. The Sermon on the Mount: Inspiring the Moral Imagination (Crossroad Publishing Company / Herder&Herder, 1999).
Ambrose. Exposition of the Holy Gospel According to St. Luke. Tr. Theodosia Tomkinson. 2nd ed (Center for Traditional Orthodox Studies, 2003).
Aquinas, Thomas. Commentary on the Gospel of St. Matthew, Tr. Paul M. Kimball (Dolorosa Press, 2012).
Augustine. Commentary on the Lord's Sermon on the Mount, with Seventeen Related Sermons, Tr. Denis J. Kavanagh, The Fathers of the Church: A New Translation, Vol 11 (Catholic University of America, 1951).
Augustine. The Preaching of Augustine, 'Our Lord's Sermon on the Mount.' Ed. w/ intro by Jaroslav Pelikan. Tr. Francine Cardman (Fortress 1973).
Bonhoeffer, Dietrich. The Cost of Discipleship, rev & unabridged edition. Tr. R. H. Fuller & Imgard Booth (Macmillan, 1959).
Calvin, John. Commentary on a Harmony of the Evangelists, Matthew, Mark, and Luke. Tr. William Pringle, Vol 1 (Eerdmans, 1949).
Chrysostom, John. The Preaching of John Chrysostom: Homilies on the Sermon on the Mount. Ed. Jaroslav Pelikan (Fortress, 1967).
Davenport, Gene L. Into the Darkness: Discipleship in the Sermon on the Mount (Abingdon, 1988).
Doriani, Daniel M. The Sermon On The Mount: The Character of a Disciple (P&R Publishing, 2006).
Fleer, David & David Bland (eds). Preaching the Sermon on the Mount: The World It Imagines (Chalice Press, 2007).
Gregory of Nyssa. Gregory of Nyssa: Homilies on the Beatitudes: An English Version with Commentary and Supporting Studies. Proceedings of the Eighth International Colloquium on Gregory of Nyssa (Paderborn, 14-18 September 1998). Ed. Hubertus R. Drobner & Albert Viciano. Supplements to Vigiliae Christianae: Texts and Studies of Early Christian Life and Language, Vol 52 (Brill, 2000).
Guelich, Robert A. The Sermon on The Mount: A Foundation For Understanding (Word Books, 1982).
Gutierrez, Gustavo. A Theology of Liberation: History, Politics and Salvation. Tr. and Ed. Caridad Inda & John Eagleson (Orbis Books, 1973).
Harrington, Daniel J. & James F. Keenan. Jesus and Virtue Ethics: Building Bridges Between New Testament Studies and Moral Theology (Sheed & Ward, 2002).
Harris, Randy. Living Jesus: Doing What Jesus Says in the Sermon on the Mount (Leafwood, 2012).
Jordan, Clarence. Sermon on the Mount. Rev ed. (Judson Press, 1952, 1970).
Luther, Martin. Luther's Works, vol. 21: 'The Sermon on the Mount (Sermons) and The Magnificat.' Ed. Jaroslav Pelikan (Concordia Publishing House, 1956).
Mattison, Willam C. III. The Sermon on the Mount and Moral Theology: A Virtue Perspective (Cambridge Univ Press,2017).
McKnight, Scot. Sermon on the Mount (Zondervan, 2013).
Pennington, Jonathan T. The Sermon on the Mount and Human Flourishing: A Theological Commentary (Baker Academic, 2017).
Pinckaers, Servais. The Sources of Christian Ethics, Tr. from 3rd ed by Sr. Mary Thomas Noble (The Catholic University of America Press, 1995).
Pinckaers, Servais. The Pursuit of Happiness–God's Way: Living the Beatitudes. Trans. Mary Thomas Noble (Alba House, 1998).
Pontifical Biblical Commission. The Bible and Morality: Biblical Roots of Christian Conduct (Libreria Editrice Vaticana, 2008).
Ratzinger, Joseph (Pope Benedict XVI). Jesus of Nazareth, Vol 1: From the Baptism in the Jordan to the Transfiguration. Trans. Adrian J. Walker (Doubleday, 2007).
Shelly, Rubel. The Beatitudes: Jesus' Formula for Happiness (20th Cen Christian, 1982, 1984).
Stassen, Glen H. Living the Sermon on the Mount: A Practical Hope For Grace & Deliverance (Jossey-Bass/Wiley, 2006).
Stassen, Glen H. & David P. Gushee. Kingdom Ethics: Following Jesus in Contemporary Context. Downers Grove, IL: IVP Academic, 2003.
Stott, John R. W. The Message of the Sermon on the Mount (Matthew 5-7): Christian Counter-Culture (Inter-Varsity Press, 1978).
Talbert, Charles H. Reading the Sermon on the Mount: Character Formation and Ethical Decision Making in Matthew 5-7 (Baker Academic, 2004).
Tyndale, William. Expositions and Notes on Sundry Portions of the Holy Scriptures, Together with the Practice of Prelates by William Tyndale, Martyr, 1536 (Cambridge Univ Press, 1849).
Wesley, John. John Wesley on The Sermon on the Mount: The Standard Sermons in Modern English, Vol 2, Ed. Kenneth Cain Kinghorn (Abingdon, 2002).
Wierzbicka, Anna. What Did Jesus Mean? (Oxford, 2001).
Books Digested (So Far) In 2018
Bechtle, Mike. Evangelism For the Rest of Us: Sharing Christ Within Your Personality Style (Baker, 2006).
Fish, Stanley. Winning Arguments (Harper, 2017).
Flint, Thomas P. & Michael Rea (eds). The Oxford Handbook of Philosophical Theology (Oxford, 2011).
Greenman, Jeffrey P., et al (eds). The Sermon On The Mount Through The Centuries: From the Early Church to John Paul II (Brazos, 2007).
Jacobs, Alan. How To Think (Currency, 2017).
Jeremias, Joachim. The Sermon on the Mount. Facet Books, Biblical Series 2. Tr. Norman Perrin (Fortress Press, 1963).
Moreland, J. P. & William Lane Craig. Philosophical Foundations for a Christian Worldview, 2 ed (IVP, 2017).
Morris, Thomas V. Our Idea of God (Regent, 1997).
Smith, James Bryan. The Good and Beautiful God (IVP, 2009).
Smith, James K. A. You Are What You Love (Brazos, 2016)
Stump, J. B. (ed). Four Views on Creation, Evolution, and Intelligent Design (Zondervan, 2017).
Warburton, Nigel. Philosophy: The Basics, 5th ed (Routledge, 2012).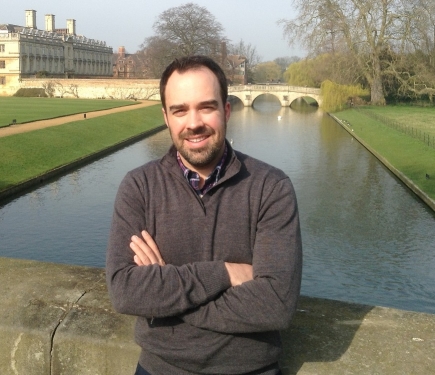 Nathan Guy believes the passionate pursuit of truth, goodness, and beauty culminates in Jesus Christ. He received formal training in philosophy, theology, biblical studies, and cultural & political ethics from Oxford, Cambridge, and the LSE. He lives in Florence, Alabama, where he serves as President of Mars Hill Bible School.